​Mississippi is named for the Mississippi river which forms its western boundary and empties into the Gulf of Mexico. The name roughly translated from Native American folklore means "Father of Waters." The translation comes from the Chippewa words "mici zibi" meaning "great river" or "gathering in of all the waters" and the Algonquin word "Messipi".

Mississippi was organized as a territory in 1798 and was admitted as the 20th state to join the Union on December 10, 1817. Jackson is the capital city and the largest metropolitan area.
Facts About Mississippi
Full Name:

State of Mississippi
 

Joined Union:
December 10, 1817
 

Population:
2.984 million (2012)


Land Area (square miles):
46,923.27


Demographics:
Race:
white: 60%;
black/African American: 37.3%;
two or more races: 1.1%;
Asian: 0.9%;
other: 0.8%;
Native American: 0.6%;
Hawaiian/Pacific Islander: 0.1%

Sex:
female: 51.4%; male: 48.6%

Age:
0 to 14: 25.7%; 15 to 64: 61.7%; 65+: 12.6%


Capital:
Jackson
 

US Representatives:
4


Motto:
"Virtute et armis" (By valor and arms)


10 Largest Cities:
Jackson, Gulfport, Biloxi, Hattiesburg, Southhaven, Greenville, Meridian, Tupelo, Olive Branch, and Clinton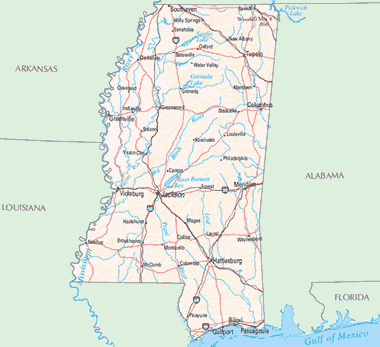 Experience beautiful images of Mississippi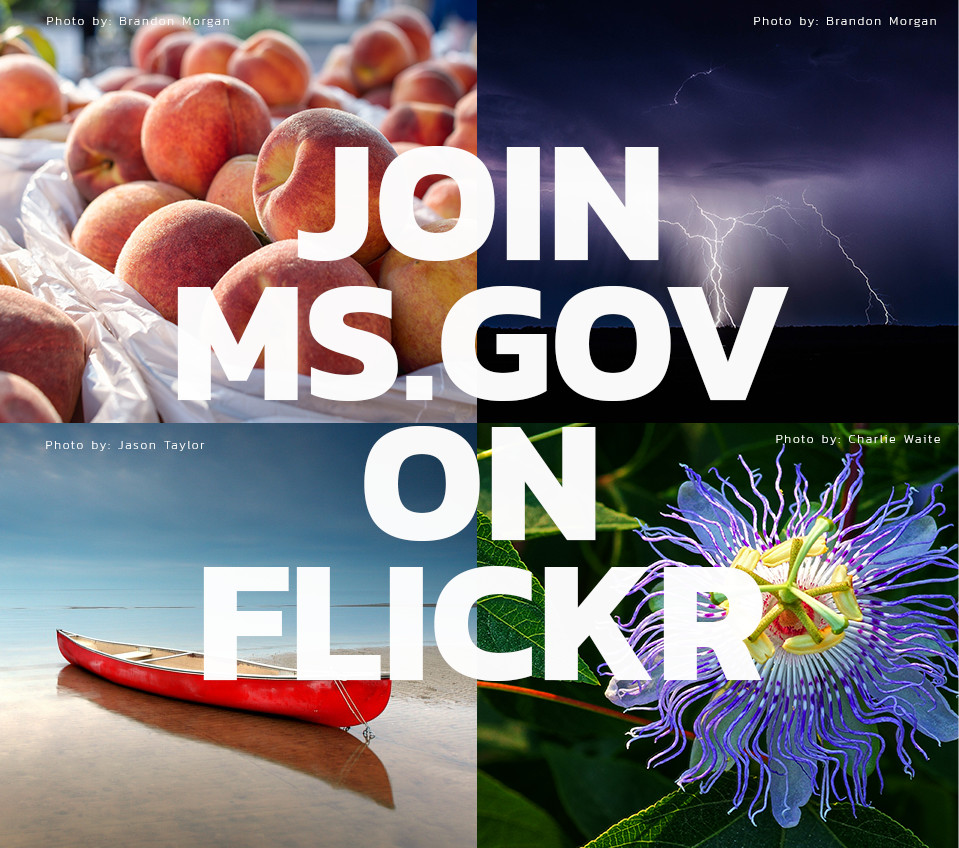 Submit your photos of Mississippi life and culture! Photos may be of architecture, nature, original artwork, etc., and must not be copyrighted nor require releases of any kind. Submitted images will be reviewed; not all images will be selected into the pool. Select images may be chosen to display on the MS.gov official state website. Submitted images may be resized or cropped to best fit MS.gov's display requirements. All images used will be attributed to the submitter. Submitter retains all rights to the image.
Famous Mississippians
Mississippi is home to a long list of famous musicians, writers, artist, actors, and sports heroes. Discover some of the world's most well-know people who have the privilege of call Mississippi home.
Jimmy Buffet (Musician): Born in Pascagoula on December 25, 1946
Medger Evers (Civil Rights Activist): Born in Decatur on July 2, 1925
Brett Favre (Football Player): Born in Gulfport on October 10, 1969
William Faulkner (Author): Born in New Albany on September 25, 1897
Jim Henson (Creator of the Muppets): Born in Greenville on September 24, 1936
James Earl Jones (Actor): Born in Arkabutla on January 17, 1931
B.B. King (Blues Musician): Born in Itta Bena on September 16, 1925
Archie Manning (Football Player): Born in Drew on May 19, 1949
Walter Payton (Football Player): Born in Columbia on July 25, 1953
Elvis Presley (Singer): Born in Tupelo on January 8, 1935
Eudora Welty (Author): Born in Jackson on April 13, 1909
Tennessee Williams (Playwright): Born in Columbus on March 16, 1911
Oprah Winfrey (Talk Show Host): Born in Kosciusko on January 29, 1954