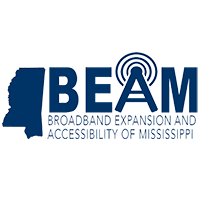 501 North West Street
1201 Woolfolk Bldg.
Jackson, MS 39201
The 2022 Legislature enacted HB 1029 creating an office of broadband for the State of Mississippi. Governor Tate Reeves then appointed former Senator Sally Burchfield Doty as director of the office which is known as BEAM (Broadband Expansion and Accessibility of Mississippi). The State will now have one point of contact for all broadband issues. The BEAM office will function under the Department of Finance and Administration.
At the direction of the 2020 Legislature, the Public Utilities Staff administered $75 million in CARES Act funding in broadband grants primarily for Electric Power Associations. More recently, in February of 2022, the Public Utilities Staff was awarded a $32 million grant for ten projects across the state. This administration and monitoring of this $32 million grant will be transferred to BEAM.